The attention we place towards the customer is exceptional.
We answer questions via chat, email, telephone. We kindly ask you to fill in questionnaires to understand the perceived value of our innovative product.
95 out of 100 people are enthusiastic about its effectiveness and practicality (internal questionnaire)!
Here are some answers in full, taken directly from the questionnaire with screenshots, alternated with photos of customers happy to have LACTOSOLUTION 15000 at their side.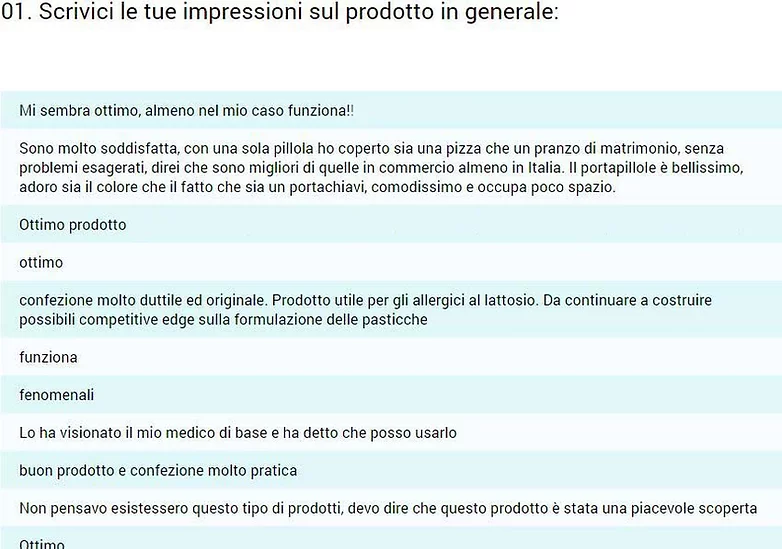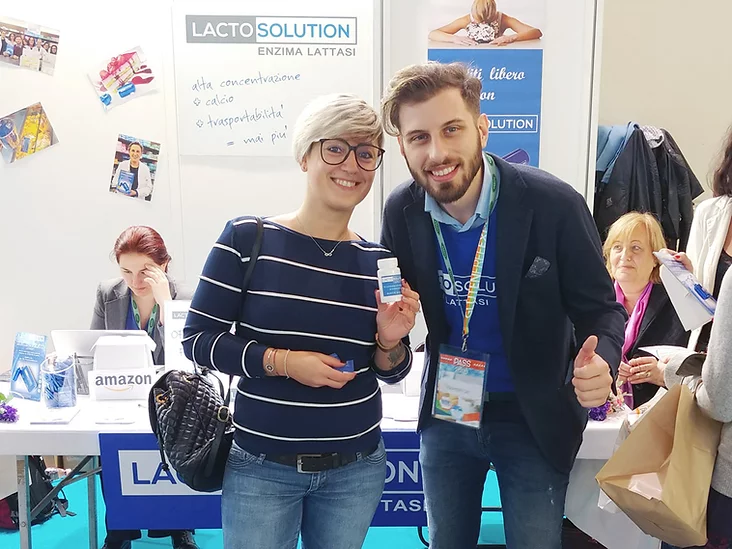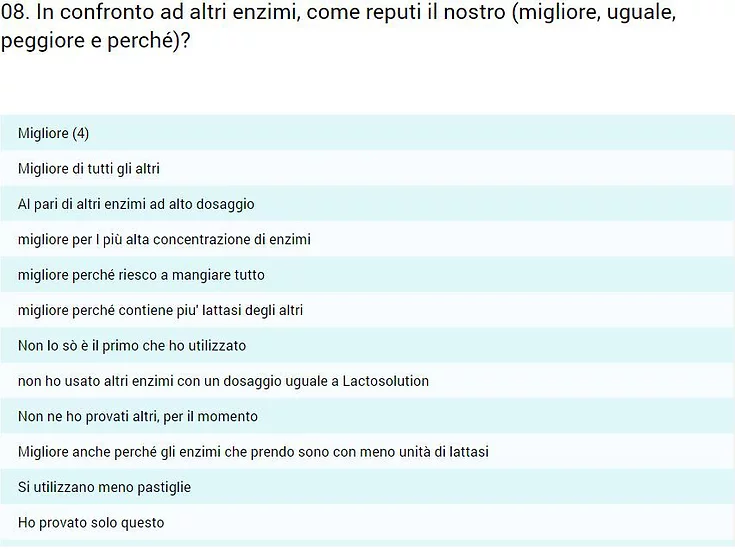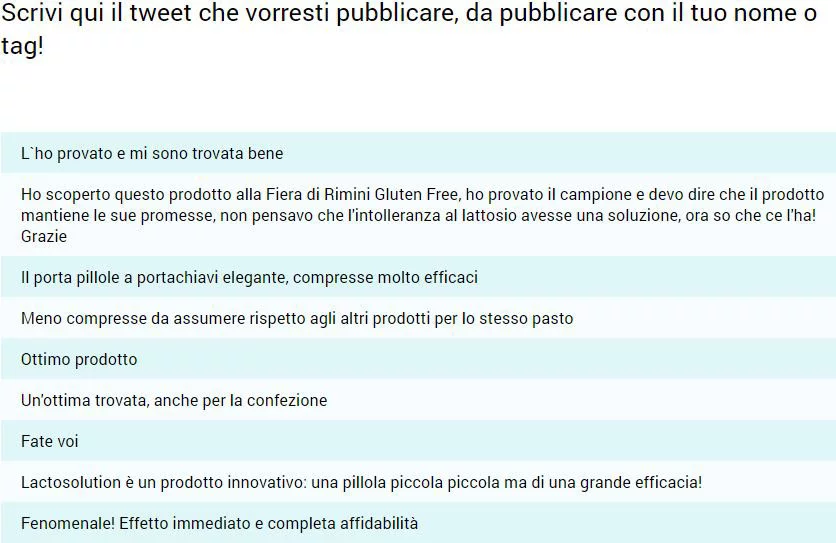 Do you want to be the next to benefit from the revolutionary LACTOSOLUTION 15000 supplement?
What do the shopkeepers think
Not only pharmacies and para-pharmacies but also BARS, ice cream parlors, pastry shops, restaurants, dairies.
It is the beginning of the revolution ... the merchants are happy to have the right solution to the customer's needs, without giving up on sales.
From today it is no longer necessary to hide behind the embarrassing "I'm sorry but I don't have lactose-free foods", now the answer is "don't worry, you can take a tablet of LACTOSOLUTION and enjoy your favorite ice cream in total freedom!"
As Giacomo Bizzarri of Mashcream shows us:
"With LACTOSOLUTION we have found the solution for the customers of our new Gelati Bizzarri store in Senigallia.
It is wonderful to always be able to have a sincere smile towards the customer, helping him in his problems. "
We stand up for Lactosolution 15000
Intolerant for years and tired of products not able to solve the problem of lactose intolerance, we started asking and asking ourselves questions ...
Is it possible that there is no way to really improve the conditions of us lactose intolerant?
What are the effects of the lactase enzyme on foods?
How can we improve intestinal absorption?
How can we avoid forgetting the tablets when leaving the house?
Collected more than 300 questionnaires we got to work. The study was long and intense, but every outstanding result requires great effort ...
We have managed to create a super concentrated supplement, eliminating the problem of having to take 5 or 6 pills for an ice cream.
We were able to compact this amount of enzyme into an odorless, tasteless and only 7mm diameter tablet, eliminating the hassle of taking it.
We have revolutionized the concept of portability of supplements, inventing a beautiful, practical, comfortable, safe pill box and eliminating the thought of having to carry around something that makes us different. The pillbox we use is waterproof, that is water resistant, it does not let UV rays or dust pass, keeping the product in its original characteristics.
We have given way to correct information and assistance aimed at all lactose intolerant through our BLOG, making up for the lack of reliable information that characterizes the sector.
Finally we have proposed valid diagnostic tests to support the correct diagnosis of the most common intolerances.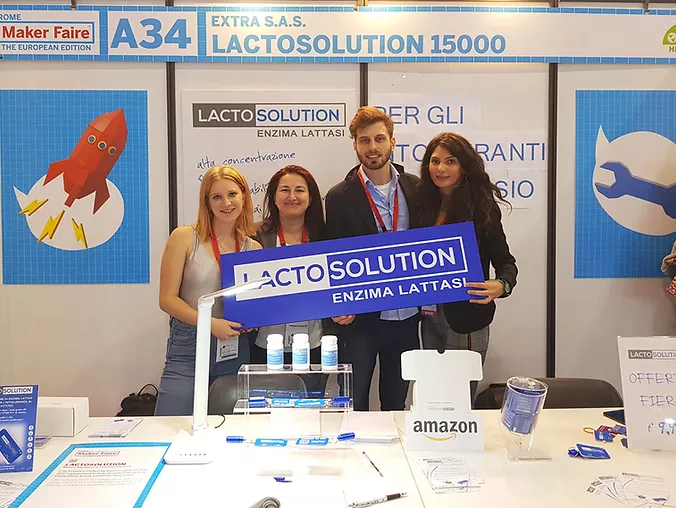 Marco Verducci - General Manager
Experiences: Stellantis (Fiat Chrysler Automobiles), Ariston Thermo, Extra Electronics
Studies: Mind The Bridge Startup School (San Francisco), Master in Business Administration presso ISTAO (Ancona), Laurea Magistrale in Ingegneria Elettronica (Ancona) 
"Marco, why this new adventure?"
"As a lactose intolerant, I don't like to limit myself to food and give people the impression that I have special needs. What's more, intolerance is often not seen as a problem but, alas, as a personal vice.
With the lactase enzyme tablets I found happiness both in company moments and in solitude but not satisfied by the supplements and medicines on the market, I decided to create a new product, more effective and more practical.
In addition, I wanted to provide all people who have my lactose intolerance problem with scientific but easily understandable information! To find them, visit our Blog!
In the articles we have proposed you will be able to understand why our product is the best, we will try to explain the acronyms that distinguish lactase enzyme supplements and we will provide you with hints and tips for everyday life.
Thank you for being here, we have put our heart and soul into this project and your presence is our victory! "
Patrizia Danese - Customer Relations Manager
"Patrizia, how do you see lactose intolerance?"
"We worked hard to reach this important result. During the months of study we understood how lactose intolerance is a strongly felt problem due to a lack of information on the subject and ineffective products.
We have collected more than 10000 contacts in the first 6 months of validation of the idea and all the people have made themselves available to help us in this important project.
More than half of them, despite being intolerant, were unaware of lactase enzyme supplements.
This makes it clear that the lack of information is also extended to medical professionals, who do not report sufficient information to those suffering from this intolerance.
After a few months of work we arrived at the winning formulation: high concentration of pure lactase enzyme, added calcium and excipients as natural as possible and a minimum tablet size, the smallest in the industry. We were also attentive to taste, knowing how important it is not to spoil the appetite with strong or sweet flavors.
The lactase enzyme is an enzyme normally produced by our body and therefore its introduction in individuals who have a deficiency does not generate any harmful effects.
It must also be said that the lactase supplement LACTOSOLUTION 15000 IS NOT A DRUG, but, precisely, a supplement that does not involve any side effect or contraindication to taking "
Our strength is the community