The squares of shortcrust pastry filled with lactose-free and gluten-free lemon are excellent paired with an English Breakfast tea. What are you waiting for to prepare them?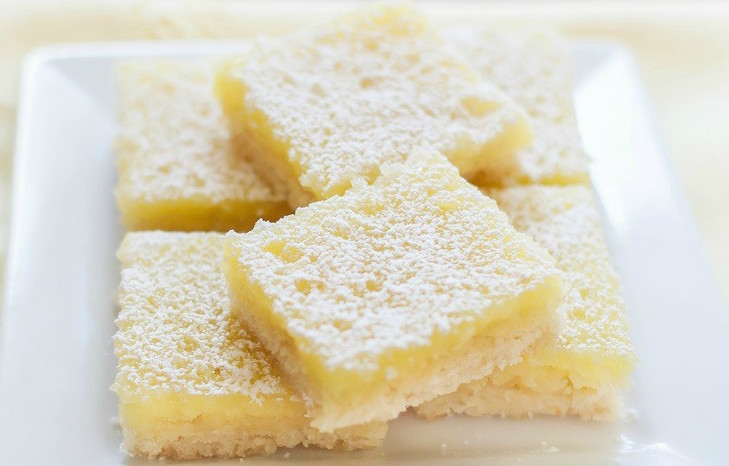 INGREDIENTS
Shortcrust pastry base
175 g of lactose-free butter
75g of sugar
250 g of gluten-free flour for desserts
1/2 teaspoon of gluten-free yeast
Lemon filling
300 g of sugar
120 ml of fresh lemon juice
4 large eggs, beaten
30 g gluten-free flour for desserts
Gluten-free powdered sugar
INSTRUCTIONS
Take a rectangular pan and line the base and sides with parchment paper.
Preheat the oven to 180 degrees.
Put the lactose-free butter and sugar in the mixer.
In a separate bowl add the flour, baking powder and mix well.
Add this mix to the previous one and mix well.
If the dough is too soft, put it in the fridge for half an hour.
Place the dough in the baking sheet lined with parchment paper and spread evenly with an offset spatula or alternatively with the back of a spoon.
Bake at 180 degrees for 20 minutes.
While the base is cooking, prepare the top. Mix all the ingredients for the filling except the icing sugar. When the base is cooked pour over the topping and place in the oven to bake for another 30 minutes or until the top has thickened and no longer moves when you shake the pan.
Chill for two hours in the refrigerator. Dust with powdered sugar when completely cooled and cut into squares.
If you don't have time to prepare this lactose-free dessert, eat your favorite dessert and remember to take a LACTOSOLUTION tablet before eating it so you will digest well even if you are lactose intolerant.
You can try LACTOSOLUTION at this link: click here
Comments (0)
No comments at this moment